🔥3D Wooden Mechanical Hummingbird🔥
This dynamic pictures is one customized product, only display to simulating bird movements, it fly automatically controlled by one motor(motor not sale by us, you can buy one to customized it yourself), not the standard product, the standard product can be fly movements by manual operation.This is a wooden kinetic sculpture that simulates the motion of a hummingbird in flight. Every element of movement is beautiful, from the beating wings to the flaring tail. Intricate systems of Handmade parts bring the sculpture to life.
Unique swimming motions are the result of hundreds of parts working together in unison. These motions are generated from carefully thought-out timing mechanisms that allow each moving part to operate independently and without undue influence from the other moving parts.
Intriguing Mechanisms
Making a sculpture like reality takes no small amount of engineering and design. Built into the sculpture are cams, and linkages, all rigorously designed to deliver wonderful motion in limited time. With so much happening at once, deciding where to look can be a challenge.
Unlike those of any other wooden sculpture. Every Wooden parts has been carefully optimized to be as life-like as possible. Hummingbird sculpture body work together seamlessly to produce a beautiful and captivating visual sequence.
How to assemble?
Assemble as instructed
No need for glue and other tools
Unique and beautiful design
Product details contain a unique artistic sense
🍭Puzzle Model Gifts Everyone Will Love🎁🎁

Specification:
Product Name: Wooden Mechanical Hummingbird
Material: safe and environmentally friendly basswood plywood
Installation time: 4 hours
Number of accessories: 205 PCS
Packing size: 300*176*15mm
Weight: 390g
Installation difficulty:⭐️⭐️⭐️
If you need the Hummingbird and Sea Turtles be other colors, you can color it by yourself in any colors.

You can DIY your favorite color with paint!!!🎨🎨🎨🎨🎨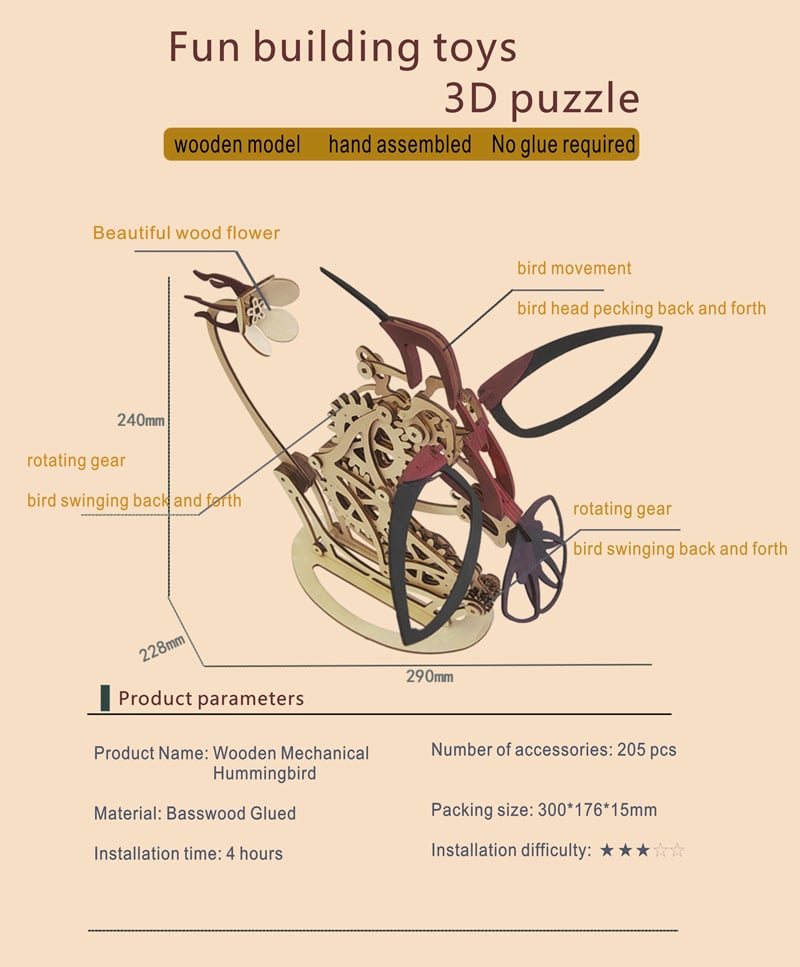 Package includes:
1 * 3D Wooden Mechanical Hummingbird
1 * Manual
❤️Thank you for your support!❤️